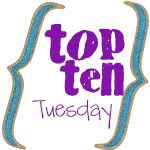 Ha...I want to post more but I find myself at a slight lack of things to post sometimes! Not that my life isn't totally crazy and hectic....cause it is :)
No need to bring that to the bloggy world just yet, I mean we
are
just getting to know each other! :)
So I guess I'm planning on following a structure on certain days ( like Tuesdays and Fridays)so that I can at least get two posts in a week...and probably 3 because there is always at least one subject I want to rant about on any given week!
Today is "Top Ten Tuesday" and my top ten for the week is this: ten things I PRAY I can get accomplished before the Hubs is deployed!
1.
His care package
.
I'm not really certain how care packages work for a deployment on a sub, but from what I've heard and can understand, sending one out each month is pretty fruitless because you never know when or where a Sub is going to be in port to get their mail. It may be months before they're able to track it down...so, I've decided I want to put a package together he can take with him that's got something special he can open each month to let him know we miss him and are always thinking of him. I've got some great idea's...it's now all about finding the time...
2.
Getting our stuff packed and moved into storage.
We're moving in with my parents for deployment, cause I have no desire to be with 2 children 2 and under halfway across the country with no support system. NO THANK YOU!! So we'll be moving out of military housing and into storage...
3.
Fix our piece of crap POA.
I've had slight drama with my POA this underway, you can read about it
here
. Hopefully my husband can get the time off so we can go correct this issue before he leaves...
4.
Get a different cell phone

.
I actually just 'upgraded' to the Env Touch like 3 months ago, which I thought was going to be an awesome phone...and it's not. It constantly has problems like shutting off for no reason, the touch screen often goes blank or doesn't work, it drops call all the time, particularly if I'm holding it between my ear and shoulder while I chase after my toddler (even after having the software updated!)...seriously I'd go back to my dinosaur of a cell phone any day then deal with the stress of this one. I'd LOVE Verizon if they could at least refund the money we paid for this piece of junk...
5.
Potty train Pollyanna.
This I'm not sure is a realistic goal, we've only got a few months before we move out with my parents and even though I think she is showing signs of being ready, there is going to be a lot going on and I'm not sure that I will be able to give it the attention I know it's going to need. What do you think? Should I go for it??
6.
Have Piglet on a nap schedule...finally!
I guess I can't complain much, the boy does sleep from 830 at night to anywhere between 430 and 630 am...better a baby who sleeps at night then during the day right??
7.
Have at least ONE date night with the Hubs before he leaves.
This so SO much harder to accomplish with young children then one might think...
8.
Trade in our dinky Matrix for an Oddessy.
Hopefully this will happen this month, not that the Matrix doesn't hold me and the kids just fine for now, we know that we want more kids, so it only makes sense to trade in now while the Matrix still is worth something. Plus...driving across country with 2 kids in that car??? That's crazy talk!
9.
Finish Pollyanna's quiet book

.
I'm making a quiet book for the girl, so we can hopefully make it through church without a major temper tantrum. I'm uber ambitious with it though...I've only got 2 1/2 pages out of 24 completed. They don't take long to make, but I want it to be really cute and durable so it can last through several children. I really would like to have it done before we move in with my parents and I have to worry about my child terrorizing a whole new Ward...
10.
Actually make it to the rest of the book club meetings before I move.
I was kind of absent from my book club for a couple of months at the end of Piglets pregnancy, but there are several other wives from our boat that go, and I really like them a lot and would like to have a connection with them before I move. PLUS, they usually choose great books, and to actually read again on a regular basis would be heaven!
Well there you have it...weird to put it all down in a list like that. I had no idea I wanted to accomplish so much...I think I must be crazy! :)
until next time,